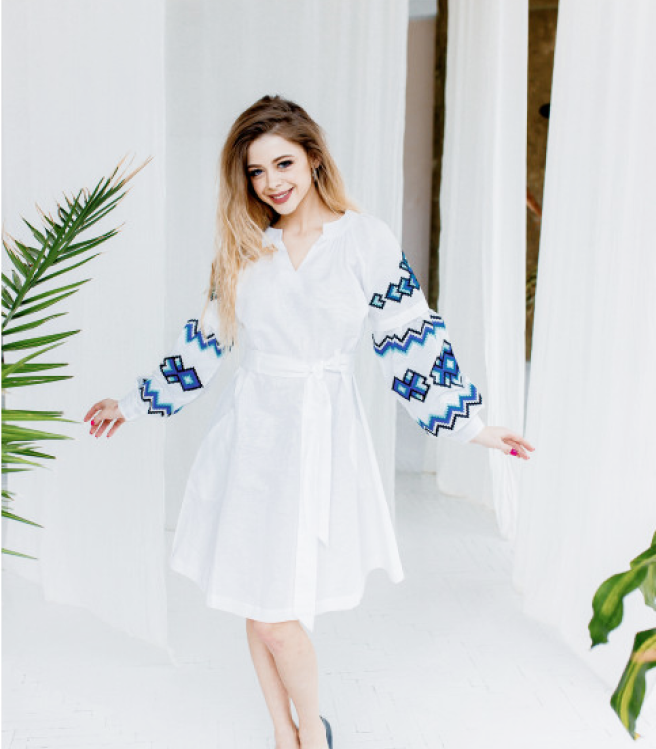 NATIVE TREND
The embroidered shirt from Halychanka is a bright, sincerely Ukrainian accent in the daily wardrobe of modern youth. Cross-stitch and floral embroidery and geometric motifs will not just emphasize your taste. They will be a decoration for everyone who loves their homeland. We strive to bring the holiday into everyday life by dressing everyone in an embroidered shirt created in their native land.
ADD BRIGHT COLORS TO EVERYDAY LIFE!
You will be pleasantly surprised by high-quality materials and a variety of styles from the Halychanka company. Girls will be able to order a T-shirt, dress, tunic, corset, shirt or even a raincoat from us. Men will like embroidered T-shirts that will go equally well with jeans and a jacket. Little Ukrainians will be delighted with floral and geometric ornaments on children's embroidered T-shirts and shirts! And don't forget to add originality to your home! Embroidered pillowcases, potholders, aprons, tablecloths and bedding will become a stylish accent of the interior, making it more cozy.
HOW TO MAKE AN ORDER?
Online orders are accepted around the clock!
Orders are processed from 08:30-17:00
HOW DELIVERY IS CARRIED OUT
Galychanka cooperates with the best transport companies in Ukraine and abroad to get you a stylish Galician embroidered shirt as soon as possible.
Just choose the branch of Nova Poshta or InTime convenient for you. The order is formed in 2 days.
CAN I TRY CLOTHES BEFORE BUYING?
You can try on clothes in the brand store at 1 Hetman Mazepa Street, Lviv